Switzerland - Western Europe
International Management
58
International University in Geneva (IUG)
Master of International Business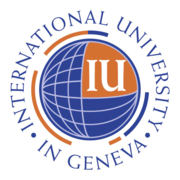 Program overview
In addition to core business courses, the Master of International Management trains students to be skilled in international business practices with a strong cross-cultural focus. The program provides a global perspective on issues such as international marketing, cross cultural negotiation and human resources and aims to link theory to practice. The Master of International Management is comprised of 14 courses taken over one year in the day.
Admission conditions
Required diploma(s) :
Tuition & Fees
Between 36400 and 36400 CHF
Between 30300 and 30300 €
Employment opportunities & career impact
Average time for obtaining the first job offer : 6 months
Employment opportunities :
Career services:
The International University in Geneva provides for counselling to assist students in their career decisions. The International University in Geneva provides for Career Counselling to assist students.
Program enrolment information and statistics
Students Age
Minimum age
21 years
Average age
23 years
Maximum age
30 years
Students Full Time work experience
Minimum Full Time work experience
6 years
Average Full Time work experience
6 months
Application Deadlines
Session 1
Application Deadlines
30 July
Date of Eligibility
6 Aug
Admission result
13 Aug
Session 2
Application Deadlines
15 Oct
Date of Eligibility
22 Oct
Admission result
29 Oct
Session 3
Application Deadlines
4 Feb
Date of Eligibility
11 Feb
Admission result
18 Feb
Session 4
Application Deadlines
29 Apr
Date of Eligibility
5 May
Admission result
12 May
Faculty profiles
The faculty at IUG in Switzerland, is international in experience, practical in orientation and focused on their teaching. The faculty members are student-centered and committed to foster a stimulating learning environment.
Campus facilities & Student Life
The International University in Geneva is located in the International Centre Cointrin (ICC), a modern business and secure environment featuring a five-star hotel, three restaurants and a fitness centre.

The campus is conveniently located near the International Airport minutes away from major highways, the railway station, the international organizations, Lake Geneva and the historic old town.